The invincible car!
Are you ready?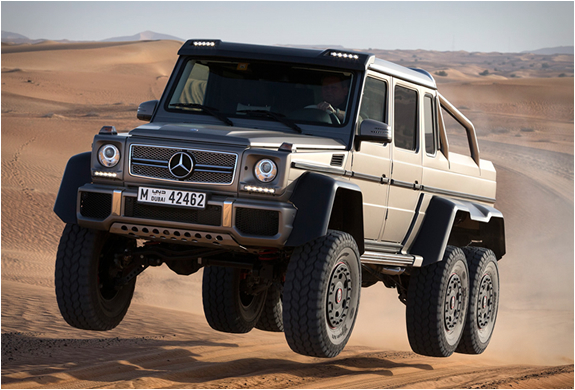 Only a few units of this all-terrain will be produced, between 30 and 40 units!
This is the «invincible car», at the heart of the Mercedes-Benz G63 AMG 6×6 is the G63's 5.5-liter twin-turbo AMG V8 that makes 544 horsepower and 560 lb-ft of torque. It's backed by an AMG SpeedShift Plus 7G-Tronic automatic with low-range transfer case that sends power to all six wheels via a conventional G63 setup at the front and a twin-axle rear-drive package that's used on various G-Class models built for military use. To ensure the G63 AMG 6×6 can keep on going where others fear to tread, this 8,487-pound ultra-runner also features portal axles that help increase ground clearance to nearly 15.8 inches, five differential locks that can be engaged on the fly, 37-inch all-terrain tires that also offer real-time pressure adjustability and a bespoke G-based suspension with custom springs and driver-adjustable shock absorbers. That formidable combination lets this maxi M-B charge up sand dunes with alacrity, rock walk with confidence and amble through 40 inches of water, when necessary.
On top of it all the AMG package makes this all-terrain as luxurious on the outside as it is inside.