4 Rivers Floating Eco-Lodge, Tataï River, Cambodia
4 Rivers Floating Eco-Lodge is located near the village of Tataï, around 5 hours drive from Phnom Penh. This environmentally friendly resort offers 12 stylish beautiful water bungalows overlooking the river and in the middle of nature.
Cambodia's southern coast is an area in development, with plenty of wild rainforest, waterfalls and beaches to be discovered.
To get to the resort you need a 10 minute boat ride, no roads to get there! Enjoy 10 minutes of bird spotting while you reach your destination.
Photo source: tripadvisor.com
Each tented bungalow is circular with double or twin rattan beds, wardrobe, chaise longue, chairs and coffee table. Flat screen TV, DVD player, ceiling fan and the sides of the tent can be rolled up for panoramic views through the insect-repelling mesh. The bathroom offers a round wooden tub serving as bath or shower. Outside the private terrace/deck has 2 lounge beds and steps down to the river. Water is clear most of the time and 27ºC!!!
Photo source: inthralld.com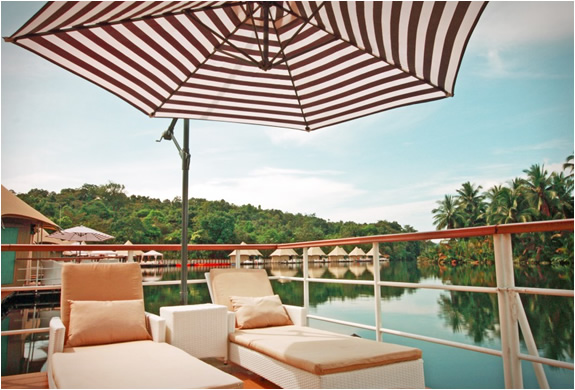 Photo source: blessthisstuff.com
Amazing food is served in the restaurant where Wi-Fi is also available. While the main activity here is to relax and watch the river and its wildlife, there are other activities available.
Photo source: i1.ytimg.com
Enjoy kayaking as your main transport option, exploring the river banks and mangroves. Get to the Tataï Waterfalls which are calm from October to April and offer cool pools to sunbathe and relax.
The Cardomom Mountains offer great hiking adventures and nature spotting, rare species like the Javan Rhinoceros, Cloud Leopards, Tigers and Asian Elephants live in those mountains. Around the lodge you're more likely to spot birdlife, black eagles, dragonflies, butterflies and other beautiful insects. Maybe even, deers and wild pigs.
For more information and bookings please visit: 4 River Floating Eco-Lodge and if you ever need to rent, lease or transport a vehicle worldwide contact us, we will be more than happy to assist you: www.autoturistica.com.
Photo Source: apsaratours.com.kh