Clayoquot Wilderness Resort, Tofino, Canada
Located near the village of Tofino, Clayoquot Wilderness Resort is the ultimate in Luxury Camping. To get there just fly to Vancouver Airport and they will pick you up on a water plane or you can also choose a boat ride from the shores of Tofino.
The resort opens from mid May to the end of September every year. It is very popular among families during the summer months and ideal for couples during May and September. But everyone is welcome anytime and the adventures are tailor made so don't worry about your mobility, energy or skills levels!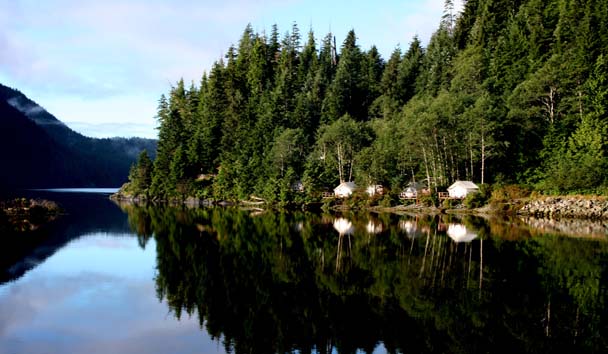 Photo Source: elegantresorts.co.uk
You can choose from 3, 4 and 7 nights all inclusive adventures. Two types of accommodation, 12 luxury en suite bathroom tents or 8 deluxe outpost tents. The main difference are the bathroom and size of the tents.
Photo Source: naturalworldsafaris.com
There is a healing tent offering 3 massage tents and 2 treatment rooms, 2 wood-fired cedar hot tubes, a wood-fired cedar sauna, a small fitness facility and a yoga studio with morning sessions and private sessions on demand.
2 Lounge tents for pleasures like reading, games, lounging and select barrel-aged spirits.
Photo Source: kiwicollection.com
Food and beverages are all included and Chef Orr and his team will delight you with their recipes all made with fresh and locally sourced ingredients.
Every evening the Director of Activities will sit with you personally and design your adventures for the next day depending on the weather, tidal charts, animal sightings and your willingness to go wild!
So many adventures to choose from: Healing Grounds, Equestrian, Kayaking, Whale Watching, Bear Watching, Hiking, Fishing, Flores Island, Hot Springs, Wildlife Viewing, Climbing, Shooting, Archery and Mountain Biking.
Photo source: tripadvisor.com
Of course, you may think you need to pack so many special gears for each adventure. No need to do that, they have all you need available for you there, so you can travel light!
For more information and bookings please visit: Clayoquot Wilderness Resort and take time to read … there is so much really useful information.
If you need to rent a car for any occasion worldwide, check our prices, offers and locations here: www.autoturistica.com or contact us, it will be our pleasure to assist you.
Photo Source: equestrianhotels.com